Get Involved
SENTINELS OF SERVICE
Is a comprehensive record, written by Peter Rickard, of the men and women associated with the former Shire of Creswick who served in World War I and who have been honoured by the planting of a tree in their name in the Avenue. Peter Rickard's quest to uncover the history of the three Rickards represented in the Avenue became a much bigger project as his curiosity expanded.
The book will be of interest to relatives of those in the Avenue, locals, and people interested in war history. It provides personal profiles of soldiers, engineers, nurses, drivers, blacksmiths, light horsemen, veterinarians, butchers and even an air mechanic. In their histories Peter reveals such facts as age, marital status, rank, occupation and religion. Additional details include incidents from wartime, the variation of names on public records, and photographs of relevant troopships, medals, war graves and memorials.
The first release of Peter Rickard's book Sentinels of Service – Volunteers of the Kingston Avenue of Honour was so popular, it sold out quickly and is being reprinted. Copies can be pre-ordered at the Creswick Newsagency or purchased online when available. The price of the book is $35. Add postage and handling of $10 if purchased online. To pre-order, contact Creswick Newsagency on (03) 5345 2557.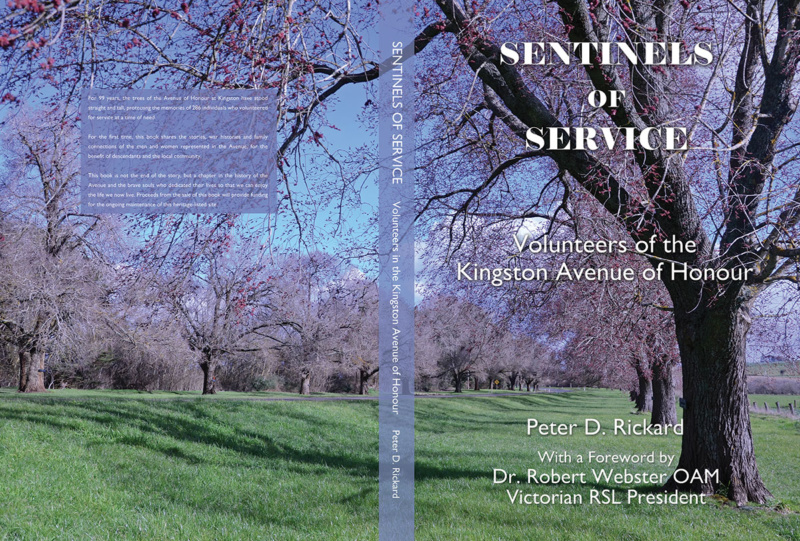 Buy Sentinels of Service – Volunteers of the Kingston Avenue of Honour:
Book by Peter Rickard
$45 inc. postage & handling